Dark comedy PROBLEMATIC follows writer Twinkle Reddy after a viral public showdown with a finance douche transforms her from unknown startup minion to woke sensation. Along with a cast of fellow weirdos and media bros, Twinkle finds that the greatest work she has to do is within herself — and not preaching to others.
Meet Twinkle, the main character of the series PROBLEMATIC, co-written by comedian-writer Pranav Behari and writer Aditi Natasha Kini, and produced by Devyn Fusaro. A funny, ironic, and hopeful take on the ways the search for meaning can go awry, PROBLEMATIC follows Twinkle and friends after she accidentally finds herself in the position to tell others how to be.
The complicated feminism of FLEABAG meets the awkward protagonism of CHEWING GUM and the cultural conflicts of RAMY.
Twinkle isn't so much the voice, but the lowest common denominator of a generation burdened by student debt, political theatre, and a crumbling belief in humanity's future. Toiling away at a Bullshit Job at a media tech startup, she is the poster child of second-generation immigrant alienation—a queer technocratic bitter optimist one universal healthcare bill away from finally seeing a psychiatrist. Through her, we meditate on "cancel culture," privilege, gentrification, immigration and millennial disillusionment.
PROBLEMATIC the web series is currently in pre-production for a July 2022 shoot. Please email us at problematicseries@gmail.com if you'd like to be considered as we crew and cast up 🙂
About the team
Aditi Natasha Kini [co-creator] (they/she) is a writer who, like PROBLEMATIC's protagonist, got her "big break" writing hot takes as a freelancer-with-no-benefits. Her cultural criticism, opinion essays and creative nonfiction have appeared in the New York Times, Bitch Magazine, and elsewhere. She has appeared on radio and television shows, and is producing filmmaker Nemo Allen's EL BASTÓN, a feature documentary on the indigenous struggle in Colombia. An MFA candidate at UC San Diego, she is at work on her book THE KILLING OF A TIGER and a historical dramedy-thriller THE JUDGMENT OF THE BRITS. She is a finalist and alternate awardee for the 2021-23 Jerome Artist Fellowship in Literature. aditikini.com
Pranav Behari [co-creator] is a writer, stand up comedian, and co-host of the podcast MANGO BAE. A club favorite around NYC and a festival favorite around the country, Pranav was recently featured in the ROGUE ISLAND COMEDY FESTIVAL and a headliner at the MILWAUKEE COMEDY FESTIVAL, alongside veteran performers like Colin Quinn and Gina Yashere. MANGO BAE is a raucous South Asian comedy show which goes way off the rails as it discusses issues affecting the South Asian diaspora and immigrants in general. Rambunctious, irreverent, and incisive, Mango Bae is by desis, but for everyone! @pranahaha
Devyn Inez Fusaro [co-creator] (she/her) is a producer, actress, and writer working in scripted and documentary film and television. Most recently, she co-produced the documentary, Phoenix Rising for HBO. Her other work can be found on Showtime and Hulu. In addition to storytelling, she is passionate about civic engagement, social and climate justice, and spiritual practice. Throughout her endeavors, she seeks to reimagine and reshape our world. devyninezfusaro.com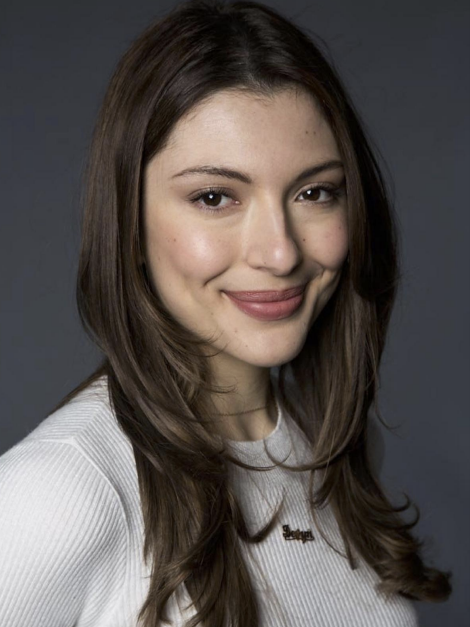 Sushma Khadepaun [director] is an Indian-American filmmaker based in New York City. She was listed as one of 25 New Faces of Independent Film by Filmmaker Magazine in 2021. Her short film Anita premiered at the Venice Film Festival in 2020 and has screened at several international festivals including Palm Springs, Stockholm, Dublin, etc. winning several awards. Her feature project, Salt, is a recipient of the SFFilm Westridge Grant and participated in Gotham Week 2021. Sushma's work has been featured on NPR, BOMB Magazine, the Indian Express, Focus Features Digital, and Canal Plus among others. She is an alumna of the MFA Program in Screenwriting and Directing at Columbia University.